Salamander with weird Tatoos. D:
Joined

Jul 9, 2011
Messages

201
Likes

0
Points

16
Chronicles of Siriko - Reborn
~~~~~~~~~~~~~~~~~~~~~~~~~~~~~~~~
IC Thread Link:
http://muffin.g2anime.net/showthread.php?p=229385#post229385
~~~~~~~~~~~~~~~~~~~~~~~~~~~~~~~~
~In a land where betrayal is paramount and evil is at it's darkest, the light of heroes will appear to burn a path through the shadows...

Chronicles of Siriko
is set in the war torn lands of Azadia and Eradia, on the Isle of Siriko. Already has it been ravaged by almost two centuries of blood and strife, whispers of rebellion, curses of war and screams of civil unrest...
It's here! It's here! At long last, Chronicles of Siriko is back, and it's better than ever!
But first... The firm laws of proper roleplaying, also known as "Rules".
Rules:
1.
Try to be as descriptive and thorough as possible. What is an uber strong hero without an uber strong description?
2.
Try to be neat and tidy. Spell check is suggested. It is kind of tedious I admit, but then no one can clearly see the right picture if words are spelt wrong.
3.
Please try and get around to making time for your next post. Because when it gets to your turn, if you hold up the roleplay for too long, I'll righteously godmod your character myself.
4.
Avoid major Godmodding at all times. It's fun to say your character shot another player and "flawlessly" killed them, but then that would be cheating wouldn't it?
5.
Have fun with it!
And of course, if you fail to abide these laws, you will be smote by the demons of the Fade and your useless corpse used for very creepy things by @
Supremacy Kills
.
But fortunately, that won't happen, will it?
Anyways, enough with the boring stuff, on with the show!
"Let's get this show on the road! Wait, what road?"
----------------------------------------------------------------
This Roleplay is OPEN and ABSOLUTELY free to JOIN! Just make a character sheet and you're in!
Roleplayers:
Characters:

You should know what these are. If not, shame on you!
Check below for Character Creation Information for the base CS Template and other cool stuff.
Andre Valias - Andre Valias & Thalene Siraphe
Name:
Andre Valias
Age:
17
Race:
Hume
Gender:
Male
Starsign:
Steed
Appearance:
Height:
5"4'
Weight:
128 lb
Background:
Seventeen-Year-Old Andre Valias is a street urchin living on the streets of Valanastre. His life on the streets revolves around pickpocketing, thievery and causing trouble, along with his friend Thalene Siraphe, of whom is also an orphan.
Andre's life wasn't always on the streets. Where or when he was born, he does not know. He has little memory of his parents, only a crystal shard of which looks important. The one object that he has kept all his life on the treacherous streets of Valanastre.
Andre and Thalene are two of the many street urchins living on the streets, trying to grab at life. Many of these street urchins, are young orphans as well. These street urchins walk the streets during the day, pickpocketing and stealing gold and food. After the day has passed, they would meet underneath the city, in the Valanastian Waterways to share and distribute their earnings amongst the poor beggars of the city.
Andre doesn't believe that there is only a life of petty thievery ahead of him. He looks to the sky everyday, wishing he could be able to travel to the skies of Aeva Sora to see the sky pirates of Amik Pahi Ka. He wishes to become a sky pirate.
But Andre knows that he will never get there with the road ahead providing little chance. But what he doesn't know is that it isn't hero who chooses fate, it is fate that chooses the hero.
Equipment:
Has a steel shortsword and dagger on his waist. He wears light steel vest, greaves, bracers and boots over only blue leather pants. He also wears the crystal shard around his neck.
Skills:
Andre is skilled with a blade, is able to use it for eficcient blocks and parries. Rather an athletic sort, good at jumping and climbing, Andre is also skilled with light armor. He is very able to sneak around and pick locks and is able to use his fists should a battle arise and he is without a sword or any other weapon.
Class:
Street Urchin (Custom*)
Faction:
Street Urchins (Custom Faction*)
Theme:
Tidus' Theme
Mount:
None
Location:
Eradia - Valanastre
--------------------------------------------
Name:
Thalene Siraphe
Age:
17
Race:
Sea Lizardman
Gender:
Female
Starsign:
Chameleon
Appearance:
(Ignore the annoying interface at the bottom)
Height:
5"3'
Weight:
121 lb
Background:
Thalene Siraphe, a sea argonian only a few months younger than Andre, is also a street urchin living on the streets of Valanastre. She roams the streets with Andre, pickpocketing and causing trouble.
Thalene is, more or less, an orphan like Andre. But the means she means to explain being like Andre's is only an illusion. Her parents never died like Andre's did. In reality, her parents disowned her. She was betrayed somewhere in her childhood and was then cast out. Such painful memories does Thalene keep locked away from the waking sun.
Andre and Thalene are two of the many street urchins living on the streets, trying to grab at life. Many of these street urchins, are young orphans as well. These street urchins walk the streets during the day, pickpocketing and stealing gold and food. After the day has passed, they would meet underneath the city, in the Valanastian Waterways to share and distribute their earnings amongst the poor beggars of the city.
Thalene doesn't share the dreams of Andre, to walk the skies of Aeva Sora. She finds her current line of work fine in her opinion. But her dreams are only to be accepted by a family, a dream she believes has already faded away.
But she doesn't know that what fate has in store for Andre, might be in store for her as well, for as long as she stays at Andre's side, her life will change in many ways.
Equipment: Thalene has twin steel daggers on her belt and a steel shortsword slung over her back. She wears a leather vest, some leather greaves, a pair of leather gloves and boots.
Skills:
Thalene is skilled at almost all the skills Andre is. She can wield daggers and blades and can use them to block well. She is a very fast runner/swimmer, good at climbing and jumping across distances and is very comfortable in light armor. She too can remain unseen, albeit a bit more than Andre, and is good at picking locks too. She isn't good with using her fists but can ensure that conversations go her way.
Class:
Street Urchin (Custom)
Faction:
Street Urchins (Custom Faction)
Theme:
Rikku's Theme
Mount:
None
Location:
With Andre
Andre Valias - Raieon Echimarus
Name:
Raieon Echimarus
Age:
18
Race:
Hume - Imperial
Gender:
Male
Starsign:
Wolf
Appearance:
Height:
5 '3" ft
Weight:
121 lbs
Background:

Equipment:
Raieon wears tattered green clothing and leather boots and gloves. He usually wields the ornate shortblade he has always had since childhood, along with a steel dagger off-hand. He also carries three steel throwing knives.
Skills:
Acrobatics, Athletics, Blade, Light Armour, Hand-To-Hand, Sneak, Security, Hunting
Class:
Street Urchin
Faction:
Independent
Theme:
N/A
Mount:
None
Location:
Azadia - Varuna City
Andre Valias - Sylph Silvershadows & Solaril

Name:
Sylph Silvershadows
Age:
117
Race:
Wood Elf
Gender:
Female
Starsign:
Eagle
Appearance:
Not my art, I only used the name because it's on the pic and I like it.
Height:
5' 8"
Weight:
132 lbs (without armor and etc xD)
Background:
Sylph was born 83 years after the devastation of Irrolai. Her parents had barely survived that day, fleeing for their lives into the forest. A small camp had been set up for survivors of that dreadful day to camp in as Irrolai was rebuilt. 83 years later and Irrolai is once again standing proudly in the middle of the Deepening Forest. This was where Sylph was born. She was able to be born into the great elven city of Irrolai a few decades after its reconstruction. She lived and grew up here as a child. She showed great capabilities and a love for the bow and arrow. It was obvious she was to become a great Marksman with being born under the Eagle starsign. Thus, at a young and tender age of 15, she was sent to train with the Rangers Brotherhood to be taught how to be a ranger. There she grew into a fine Ranger of brilliance.
During her training, she actually came upon a rare sight in the forest. It was a wounded unicorn and Eradians had somehow snuck into the forest and were now about to kill the poor creature. Knocking some arrows, she shot with masterful precision three arrows, each into the neck of all three men, thus saving the unicorn. Gathering some herbs, she helped heal the Unicorn and the Unicorn was grateful enough to give her some of its silky hair to use as her drawstring on her bow. Sylph thanked the Unicorn and allowed it to disappear into the wilds of the Deepening Forest. This would only be the first of many battles, however, they would not be so easy.
Seeing the Unicorn hair, they knew it was time for her to become a full fledged Ranger in the Rangers Brotherhood. She was enacted and she quickly rose through the ranks to Elite Ranger despite her young age. She was just that quick of a learner. Troubles didn't end in the Deepening Forest and she swore to protect it. She shot down all kinds of creatures who intended to disturb the peace of the Deepening Forest. Through her time, she came upon plenty of injured animals and would take care of them. Some of them orphans which she gave as companions to other Rangers or pets to those in Irrolai.
One she found though was a small injured wolf cub who laid curled up with his mother. The mother was bigger than most normal wolves and more ferocious looking than others. It had to be a dire wolf. The small wolf pup was afraid of her and tried to defend itself. She merely stayed with it the whole time, never leaving, always bringing food as it was just old enough to eat meat. The wolf cub finally grew to trust her after a few months of this and decided to go with her, leaving his dead mother behind whom Sylph could finally bury to rest in peace, along with other wolf cubs. She named the cub Soliral and they have been together for the past sixteen years, working greatly as a team. Both refuse to leave the forest and join the uprising against Eradians despite how much they despise them for causing this chaos. They can't bear to leave their home unprotected without them.
Equipment:
Shortsword - Made out of the most durable and strongest Steel. When stricken by another steel weapon, it makes a beautiful ringing noise that sounds like music. It can also fight off most magical attacks because of an enchantment but her armor takes over that job if she can't block or dodge it. She still usually gets hurt from the brunt of the force though.
Dagger - Made out of durable Iron. Used only when needed and kept hidden on her person. Pointed enough to stab through all but heavy armor (unless chain mail).
Recurve Bow - Made by the finest crafters of Dryad Wood. The string is made of Unicorn Hair and is practically unbreakable due to the magic of the Unicorn that gave it to her as a gift. She keeps it looking polished with a honey glaze smoothed over (and made unsticky with an addition of water) and her aim is deadly enough that if she misses, it was most likely on purpose, or the enemy was way too fast.
Arrows - Shaft created from Dryad Wood and Arrow Tip created from Steel. The Steel is lightweight but heavy and pointed enough to pierce an enemy dead on the mark.
Quiver - Basic quiver that goes on her back, made of leather and cloth with a viney design pattern on it. Used to hold both arrows and her bow.
Light Armor - Not much I really need to say here since we all know it's capabilities. However, it does tend to be able to block/absorb most magic possibly due to an enchantment put onto it.
Skills:
Blade - Very skilled with her Shortsword when need be. She rarely ever chooses to use it unless forced to.
Block - This allows her to block and parry with her sword. She's quite adept at it but prefers to dodge though will block or parry when needed.
Marksman - As her starsign says, an excellent shot. She can hit you in the heart from a hiding spot or even out in the open if you're a sneaky individual and spying on her. She can hit her mark from as far as she can see. She can also shoot horizontally or vertically and can shoot as many as three-five arrows from it depending on situation.
Light Armor - Not sure what you're going for in this skill but she is much faster in Light than Heavy Armor. She knows how to move well with it, being taught from a small girl how to do everything she can do now.
Athletics - She has very good stamina. This allows her to outrun most anyone as she is also fast and agile. She can quite easily lose her opponent among the trees but caught in the city or in the open, she relies on her speed to flee if need be or on improvising, though she rarely ever does.
Medicinal - She knows how to take care of the wounded. By gathering herbs, she can make up antidotes and the like to help heal the injured. She is also practicing how to use Restoration magic since it's more helpful than Herbs on the battlefield
Sneak - Also very good at sneaking around. She can do it like any other rogue or assassin, concealing herself in the leaves of trees or bushes or walking silently along the ground. The only thing you'd be able to hear if she is sneaking is probably her breathing or smelling her scent.
Acrobatics - She is very agile, allowing her to dodge most attacks though close combat is a bit harder. Dodging hand-to-hand is easy for her. She also loves to run through the treetops at top speed, leaping from one branch to the next quickly and even doing acrobatic things, improvising when trees aren't around.
Class:
Ranger
Faction:
Rangers Brotherhood- Prefers to be neutral in these turmoiled times
Location:
Somewhere in the Deepening Forest
~~~~~~~~~~~~~~~~~~~~~~~~~~~~~~~~~~~~~~~~~~~~~~~~~
Name:
Soliral
Age:
17
Race:
Dire Wolf
Gender:
Male
Starsign:
Griffin
Appearance: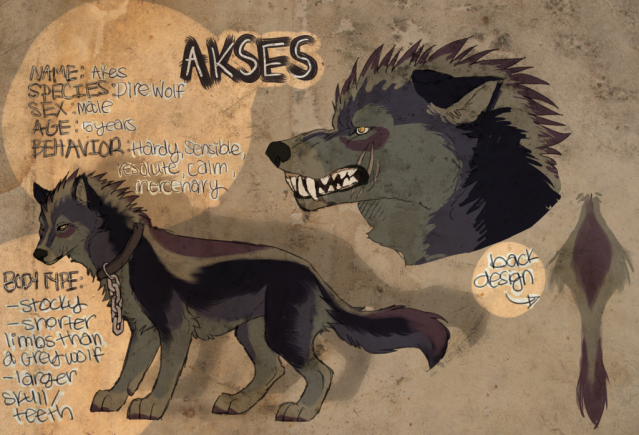 This image is not mine and therefore ignore the name/personality.
Height:
3' 4"
Weight:
153 lbs.
Background:
While Soliral was just a cub and just learning to hunt and eat meat, some Eradians came into the forest and killed his mother and the rest of his siblings merely for trying to defend her children and territory. He was left injured and thought to be dead as he lay away from his mother. He crawled to her and lay be her side, shivering and whimpering, in pain and hungry. He detested these bipedal creatures so when a beautiful bipedal fell upon him, he did not trust her at all.
In time, after she kept returning and staying by his side and feeding him and taking care of him, he finally began to realize that this bipedal was not like the ones that had killed his mother. He watched her no longer with an angry face but with a curious one, wondering why she was so different. He knew he had no where else to go and that if she left, he would surely die. So as she left one day to go gather some more food for him, he finally stood up and followed her, much to the cramping in his legs from not moving around so much because of not wanting to leave his mother's side.
The bipedal, seeing this, had gone over to his mother and he growled, not wanting her to touch it. However, he stopped as she gave him a kind but sad look that meant she was not going to desecrate her body but merely give her a proper burial. He allowed her to, standing next to her the whole time. From there, he decided to dedicate his life to this bipedal as he felt he could trust no one else. He was taught how to hunt, he was taught how to kill and even taught how to be stealthy and acrobatic at a young age.
He trained alongside Sylph, gaining courage and a loyalty no dire wolf would ever possess for another bipedal. He became strong, healthy and fearsome in battle and a great scout. He now goes on patrols with Sylph around Deepening Forest. He does not forgive those who trespass and cause chaos in his home and he definitely does not forgive those who hurt Sylph or try to hurt her. He is 110% loyal to her and would do anything to avenge her injuries or death.
Equipment:
Herb Pouches - Simple. It's pouches that carry herbs. He wears them strapped to his back on either side and are made of leather. Herbs don't weigh much and neither does leather so don't expect this to weigh him down in battle.
Skills:
Hand-to-hand - Though not exactly hand-to-hand, he is useful in hand-to-hand combat. He's a tough fighter, using his claws, weight, jaws and other things to turn the tide of a battle. So I would technically call this hand-to-hand since I have no other name at the moment. In power I would have to say he can probably match a werewolf.
Athletics - Very fast runner and with excellent stamina, he can outrun the fastest creature there is, though perhaps I shouldn't say outrun, but possibly match or just be a bit better in speed. This is because he's not a normal wolf but a dire wolf. Plus, he has the stamina of a marathon runner, perhaps better and could run for mile on end if need be to evade an enemy. If you give chase to him, prepare to run a marathon!
Sneak - Though not usually very good at sneaking, he was taught by Sylph to sneak around and scout and be quiet. He has mastered it so that he can do his duty for Sylph as he feels he owes her his life.
Acrobatics - This has increased his running, jumping, and landing capabilities. Training with Sylph has taught him to be fast or be killed. He can perform certain stunts like doing a flip in the air, almost as if he is a hume but it took him some time to master it. He has learned to fight against an armed opponent whether they be mage, barbarian, ranger/archer or knight (just to name the classes with the different weapon types).
Acute Senses - This allows him to detect the faintest whiff of any smell or the faintest sound of even a heartbeat or breathing. He's a great protection against rogues and assassins as he can detect them before they even think about striking.
Strong Will - Even against a formidable opponent, he will never give up. He fights to the death no matter how weak or injured he is. He has come close to death a few times and he has learned not to accept death at any rate unless it is completely hopeless (as in he is unconscious).
Class:
Scout Duelist (Custom class that allows him to scout and battle)
Faction:
Sylph as he only trusts her. He does everything he does for her and no one else.
​
Xiga - Marfince Xenthel Neonzyn
Name: Marfince Xenthel Neonzyn
Nickname: Mar, Xen, Te-Ne.
Age: 19
Race: Netixel*
Gender: Female

Starsign: Serpent
Personality: Although Marfince was born in the Starsign of the Serpent, she is nothing like it. She acts more like a mix between the signs of the Dragon and Thunder. She stands proud for who she is and whatever flaws she has, and is a loyal friend to those she befriends, however she is also a trouble magnet, impatient and quite unpredictable. This makes her a quite different type of a Netixel, seeing how Netixel's are usually a thieving type of race who live off other people's work and valuables. So in general, Mar is a nice type of person who likes to help people over all.
Appearance: Marfince is quite small for being a Netixel. She stands at only 5'1'' compared to the average hight of a Netixel her age, who stands at 5'9''. Her body is based like a humans except for the fact that she's not. Her eyes are big and of a luminescent green and the pupil is like an owls. Beneeth the eyes runs a thin line of greyish-black feathers, just along the cheekbones, as well as over the back of her nose. The feathers then fuse together with the hair lining feathers which then turns into a blend of hair and feathers till it completely becomes hair only. Mar's hair is of the same color as her feathers but is fading to a brighter tone, almost white at the ends of the hair strands and the top of the head is decorated by four slightly curved horns. Her back carries the wings, with resemblance of a Crow, and a medium long tail that is filled with feathers as well. The legs are like any humans, but the feet are like a dragons in the same pale gray tone that her skin has.
Of course she isn't naked, and seeing as it's harder times in Azadia she wears a protective leather trench-coat and beneath that she wears a nature green t-shirt and a pair of baggy skin pants for pants. She also wears a forest green bandana over her feathered forehead and hair. This leaves her with a total weight of 103.6 lbs + whatever she carries in her bag at the moment.
Height: 5'1'' ft
Weight: 103.6 lb

Background: Being born as a mute in a society where the one who yelled louder got the most attention and respect, she knew that she needed to learn a way of how to make people understand what she wanted. At first she started with gesticulations and by making noise by hitting hollow trees and branches with sticks, but that didn't make her noticed. Not enough. Soon she was underweight and sick, and as a sick one Netixle's are the race who will abandon the weak, quick. Left to die at only 4 years a researcher Mage passed by and saw Marfince, abandoned and in bad shape in what was left of the camp of her clan. He had never seen her kind, and that wasn't so weird actually. Netixel's are a stealthy, steadily moving type of people, with close resemblance to nomads. And that makes them rare.

Equipment: Mar always carries a bag with her containing most of the things needed to survive as a traveling race. A small cooking knife, flint-stone, some dry grass, a water canteen, some fishing hooks and some herbs and plants. She wears it across her shoulders and in addition to that she also carries a fishing rod made out of oak.
As for weapons she has twin swords attached to her belt and some throwing knifes as well as a slingshot.
Skills: Marfince holds great skills with the slingshot and flying maneuvers. She also is a good fisher, when she doesn't mess up or gets in trouble or is in a too impatient mood to fish. She's a really good listener and wields some types of magic, such as wind and illusion magic quite well.
Class: Freelancer. Does whatever comes across, which isn't much because of her untrusted race.
Faction: Anyone.
Theme: N/A
Location: Sedonia, Iruit Village.
Weakness: Mar is a mute, and can't speak. This is a weakness for almost no one understands that she wants a job or understands her at all. This creates a communication barrier for her, and is in some cases even dangerous for her. And then theres the weakness of being unfortunate.
Angron - Ser Roderick Hammersfeldt & Jorgun Hlaftun
Name: Ser Roderick Hammersfeldt
Age: 22
Race: Imperial
Gender: Male
Starsign: Griffin
Appearance: Roderick is about six feet tall when standing on his own feet, but more often he can be found on the back of his twenty-hand-tall horse, Drytchnath. He weighs approximately two hundred pounds in full armour, which is barely registered by his massive charger. Short, unruly, dark brown hair, emotionless grey eyes, and his angular, rough features are all usually concealed beneath his full-face helmet, and his well-tanned, battle-scarred body is kept hidden by protective layers of armour, which is in turn, covered by his surplice, bearing the heraldry of the Barony of Hammersfeldt, a purple field with a gold griffon rampant, and two crossed red hammers.
Background: Roderick was born and raised on the plains of Piras, where his father ruled, and directed the greatest of the armies competing in the Errantry wars. The younger Roderick was assumed to be joining the war as soon as possible, so his father had the greatest of his men teach the boy to ride, fight, shoot, and lead. Only the last of these gave him trouble, but it was no trouble at all considering the plights of others. And after twenty years of training, the newly-knighted Roderick set off to make a name for himself. Mageblight was all the name he got in the Errantry wars, where his fearsome skill with the jezail made him the scariest man in sight, or out of sight, depending on how kind he was feeling that day. But after a year of brutal and unrelenting success, the knight felt he would never make more of a name for himself, and he left the young Hammersfeldtan nobles to fight their war, wandering off to find new things to do. Being a knight, and having no particular goal, many a weary traveller found themselves suddenly no longer accosted by highwaymen, and very grateful were they. Should he ever take a throne, the people of Piras are sure to be with him.
Equipment: Roderick wields a lance of white oak, replaced regularly as it shatters in combat, a broadsword, specially crafted for him by the smiths at his father's castle, a dirk, to match the broadsword, a shield, bearing the heraldry of hammersfeldt, and his jezail, the only one of its kind, a fearsome rifle made for long-ranged combat.
Skills: Mounted combat, one-handed weapon proficiency, paired-weapon proficiency, superior marksmanship, superior horsemanship, light-, heavy-, and mixed- armour proficiency.
Class: Knight-Errant
Faction: Knightly Order of the Hammersfeldtan Errantry
Theme:
http://www.youtube.com/watch?v=L9nXfffeAIUl
Mount: Drytchnath, a palomino charger, appears almost golden in most light.
Location: Pirasian border
Name: Jorgun Hlaftun
Age: 28
Race: Imperial
Gender: Male
Starsign: Eagle
Appearance: Jorgun, in contrast to his lord, is only just over five feet tall, and weights just barely enough to armour the man each day. How much he actually weighs is entirely debatable. Having lived a good deal longer than his lord, Jorgun is a good deal rougher around the edges, but one might not notice this at first. He looks the very image of average and unremarkable, save for his stature, though his brown eyes reveal an intelligence that seems almost hungry in nature.
Background: Jorgun wandered in to the castle at Hammersfeldt one day and was mistaken for someone else. Eventually, given his natural affinity for things intelligent, he managed to use his mistaken identity to get a job as Roderick's squire. This he put to good use, and he privately taught himself all about tactics and generalship while his charge learned other things, and it is he who aided the knight in leadership and tactics, otherwise he might not have been given a knighthood.
Equipment: Jorgun bears a shield very similar to Roderick's, along with a shortsword and spear, all gifted to him by the baron in order to better keep his son safe.
Skills: mounted combat, hand weapon and shield proficiency, horsemanship, light armour proficiency, tactical proficiency, hunting, cooking, repair.
Class: Squire
Faction: Technically neutral
Theme:
http://www.youtube.com/watch?v=L9nXfffeAIUl
Mount: Bastion, a horse almost as large as Drytchnath, though trained to be steadfast, rather than vicious, bay in colour.
Location: with Roderick.
Thalion Syranas
​
In the beginning of everything, so it is decided our own
DESTINY
.
​
Name
: Thalion Syranas.
Age
: Seventeen.
Race
: Hume.
Gender
: Male.
Starsign
: Ice starsign.
​
The present day that Will not last more than a
SECOND
...
Appearance
: Under the appearance of a vagrant, this teenager hold a ravaged-by-the-streets body, ridden by scars and tanned by the hours below the sun's heavy punishment. Wherever you look, you will find scars, although majoritarily small and unnoticeable unless you're searching for them. There are only a few really noticeable ones: A long, thin scar on his right thigh, and the remaindings of a sword that once pierced through his left forearm. His face, though, still holds the structure and shape of a teenager turning into an adult, with slightly prominent cheeks, a flat nose and big, almond eyes, probably the most noticeable trait of his body, eyes that make any noble family in Varuna city be jealous of a little vagrant. This scheme gives him a serious look by default, and a face that makes it hard to stare back at when its rage shows. Miraculously, all of his teeth are still in place even after being a vagrant, although dirtied and riddened with filth. Small ears complete his face, alongside with his lips, slightly flat, with a little cut on the upper right part of his lip. As for his hair, the purest obsidian seems to have taken its home into this youngster's hair, making it the most pure black colour possible.
As a vagrant, his clothes are very limited. Ragged, chipped, and destroyed by the unstoppable time, Old greens, yellows, reds have taken a brown-ish, plaint colour. His outfit is basically made of Rags, old pieces of clothes joined together by precarious sewings. A sleeve-less vest covers his chest, with the ripped sleeves remnants on his shoulder, small strips of cloth sticking out of the black vest. The essential clothes are completed by really long and wide pants, riddened with holes here and there, ragged by time's cruel advance. He has a small more amount of properties: A belt, dirtied and barely standing, holding a purse, empty (of course), and even though it may seem like a commodity for a vagrant, he can say he wears shoes, although another piece of clothing that barely stands. The only thing that conserves a shade of colour is a handkerchief, pink, wrapped around his left forearm, hiding the spot where a dagger went through. Hidden behind the purse, a chipped copper dagger makes up for this youngster's defense.
Height
: 5'9"
Weight
: 170lb
It is one footsteps on the trail of time that make
OURSELVES
.
Background
: Almond eyes. A trait not so common in Azadia nor in Varuna city. None of the lower families in the city have it. It is usually a trait reserved to nobles and privileged people... yet no one knows why this young vagrant has these firy, passionate eyes. It may just be a coincidence, who knows; it may just mean this boy came from a noble family, and now is wandering the streets. Thalion can't really remember which one of these two is the true option... after being left, abandoned, it's not like he really cares anymore. The first years of his life passed going from orphanage to orphanage, waiting, doing nothing, watching time eat his life. There was not really much anyone could do... his eyes were the problem. Any family that would come to adopt a kid would be scared to be accused of stealing that kid from a noble family. And so, he waited for the family that never came, watching how kids passed by and learning a few household skills while spending his time there. After the first twelve years of his life his through, his time was gone. He had to leave the orphanage again... and this time there was no new orphanage, just the streets. He thought he would be alone, that there was nothing more for him, that it was the end of his life...
Hera. A teenager, maybe two years older than him. She could give him the home he needed, or better said, a place to call home.. .But, how? she was just another vagrant, covered in the same rags as him, although wearing some cheap jewelry made of bronze or iron. She still had the spirit of a goddess for him. She gave him a place to go... that little dead end on the outskirts of Varuna city, what slowly became the hideout of a bunch of friends, always coming there for her help... she became kind of like their mother, even though she was barely two years older than them. At least, she had a job, and did her best to help the other people survive. She became Thalion's main support, the only pole that holded his life up and prevented him from sinking down. He started getting used to the life of a vagrant, wandering the streets, cutting purses, taking what he needed, leaving what he didn't. It was the life of a street child... Thalion Syranas. Nothing much changed, people came and went with time, but him and Hera still resisted, together with the changing people. Before anyone could notice, Thalion reached seventeen years old. He didn't really know which day he had been born... but Hera had given him a birthday.
And that birthday couldn't have been worse, as the javelin thrown by an Eradian soldier cleanly pierced through Hera's stomach, from side to side. What she did to anger him, nobody knows: it was all erased as a theft attempt gone wrong. As for Thalion... this changed his life, and no longer he was a vagrant, a street kid, just surviving. For once, his life had a purpose, different to living for the next day: vengeance. But, not by himself, no... Hera. He wanted her back, he was going to get her back... he was sure of that. Even if he had to go to the deepest pits of hell, she was coming with him. And then, the Eradians would know vengeance. How...
Well, that is up for all of us to soon discover.
Equipment
:
-Chipped copper dagger, hidden on his belt.
Skills
:
-Small theft.
-Running away from the ones he small-thefts.
Class
: Survivor...
Faction
: No one.
Mount
: None.
Location
: Varuna city.​
(Note: Different Flags will be used on occasion, just like in the old roleplay.
"RETIRED" Flag marks a character who's owner has officially left the roleplay and is being godmodded by me to their end.
"SUSPENDED" Flag marks a character who's owner has not established ANY contact with me and is being godmodded until the owner returns or I deem it necessary to mark the character as RETIRED.​
Essential NPCs (Generic):

Generic Essential NPCs are particular NPCs that are controlled by me and are part of the general storyline progression and side campaigns and quests. They are made to be unlike mook NPCs and basic cannon fodder NPCs, and are more like Characters. Their end is only when I decree it. They can only be created by me.
Essential NPCs (Specific):

Specific Essential NPCs are particular NPCs that are controlled by me or their respected owner and are part of specific storylines that relate to a particular character or group of characters. They are made to be unlike mook NPCs and basic cannon fodder NPCs, and are more like Characters, only they have an extended temporary life span. Their end is only when their owner decrees it. They can only be created by me or requested by a player.
----------------------------------------------------------------
Roleplay and Systems Information:

Events and Development:

Time (Roleplay):
3:00 PM, 4th Lady's Seed, 1E399
Future Events:
4th Lady's Seed:
Varuna City's newly appointed Consul arrives in Varuna City. A Parade is to be held in celebration of his coming.
On the same night, a revolt is planned by the rebellion, hoping to catch the new Consul unawares and hopefully cut him down.
Bounty and Reputation:
Who are you seen as in Siriko? Who are you that walks around in the public eye? Are you a criminal with a bounty that is bound to set every guard off edge? Are you a traitor to your kingdom hunted down ruthlessly by your kin? Or are you a hero, whose name is spoken amongst the musing of the minstrels and bards? Whichever one, you are bound to be noticed.
This system is, what you can call, a beta. It is likely to change or disappear in the future. This is going to be used by me to rate the actions and ideals of your characters in the form of bounties and fame or infamy levels. This will likely influence the talk of the newspapers as well as IC rumors that can be overheard from time to time, to add more to posts.
Bounties will mean how much gold is put on your head. Logically, you can pay off the money if it is only a small fine under Five-Hundred Gold Pieces, otherwise it is to jail. But if it's over Five-Hundred Gold Pieces, you are a highly wanted criminal that must either be put down or hauled to jail.
(Note: The number is likely to be pushed up to 1000, but we'll test run it from here)
Fame and Infamy is how the people of Siriko and/or people of specific regions and other places will see you. Good or Bad. Simple context.
You may gain both. You could be a highly-wanted master thief that must be captured and be favored by the beggars for your ideals of, "Stealing from the rich to give to the poor".
Gaining Fame doesn't necessarily require saving the world, which WOULD earn you a lot of fame. To gain Fame, your actions must merit to helping the people of Siriko, as a whole, or in just specific place, such as cities, towns, villages and so on. Surely enough, news of your good deeds will perhaps reach the ears of minstrels, and you would have just made yourself notable.
Gaining Infamy doesn't necessarily require conquering the world, which WOULD earn you a lot of infamy. To gain Infamy, your actions must reflect yourself as being seen as bad, or someone that must be locked away or killed. Perhaps a series of grand theft scenes or mass killings about the land will cause the people to whisper an allias for you, passing it on quiet rumors, and soon enough, you would be seen as infamous.
Listings:
Andre Valias:
Bounty:
50 GPs (50 GPs - Valanastre - Valanastian City Guard Order)
Fame:
0 (Unknown)
Infamy:
1 (Valanastre - Troublemaker)
Thalene Siraphe:
Bounty:
50 GPs (50 GPs - Valanastre - Valanastian City Guard Order)
Fame:
0 (Unknown)
Infamy:
1 (Valanastre - Troublemaker)
Sylph Silvershadows:
Bounty:
0 GPs (Unknown)
Fame:
10 (Sedonia - High Ranking Ranger)
Infamy:
0 (Unknown)
Raieon Echimarus:
Bounty:
50 GPs (50 GPs - Varuna City - Varuna City Guard Order)
Fame:
0 (Unknown)
Infamy:
1 (Piras - Varuna City - Trouble Maker)
Erisalia:
Bounty:
Kill On Sight (Kill on Sight - Valanastian Council - Banishment Decree)
Fame:
0 (Infamous)
Infamy:
10 (Eradia - Valanastre - Exile)
Shaper Gaius Prentius:
Bounty:
0 GPs (Unknown)
Fame:
10 (Velenca - Exalted Mentor)
Infamy:
0 (Unknown)
Erlin Denford:
Bounty:
0 GPs (Unknown)
Fame:
3 (Velenca - Apprentice to Gaius Prentius)
Infamy:
0 (Unknown)
Kardos Galas:
Bounty:
3000 GPs (2000 GPs - Sedonia - Sedonian Law Order | 1000 GPs - Azadia - Mages Guild Decree)
Fame:
0 (Infamous)
Infamy:
15 (Sedonia/Azadia - Dangerous Practitioner of Banned Magicks)
Ser Roderick Hammersfeldt:
Bounty:
0 GPs (Unknown)
Fame:
10 (Piras - Knight Errant of Hammersfeldt)
Infamy:
0 (Unknown)
Jorgun Hlaftun:
Bounty:
0 GPs (Unknown)
Fame:
3 (Piras - Squire to Roderick Hammersfeldt)
Infamy:
0 (Unknown)
Note:
Ratings will be recorded as soon as the first post In Character is made.
Campaigns and Quests:

There a lot of things to be done in Siriko, which is only one small isle in a greater world. It is perhaps, a taste of what's out there.

This is also a beta system that is starting up. If it fails (Which I believe will be likely), then it will be trashed and left alone until it finds a more appropriate time, such as when we get more people interested.

Campaigns and Quests are different terms in this roleplay. But they will both require Essential NPCs to run, with real characters (Players) to influence the outcome. They will both also have a sort of deadline for it to be completed.

Campaigns are a string of events that can be considered Major versions of quests. They proceed through stages with lots of different Essentials, providing roleplayers with adquete places to enter. The roleplayers that enter them also have good enough chance to leave them as well. Campaigns will continue to the end, roleplayers or not, and the outcome will have various effects on Siriko.

Quests are small tasks provided by NPCs or objects (Letters, Points-Of-Interest, etc.) that roleplayers can run through. They will have Essentials in them and these quests will run about from time to time (Meaning that one quest may disappear one minute and another will pop up the next). I will provide some basic quests to go about, and perhaps, job boards in major cities and towns for roleplayers to find. They can also be started by the Roleplayers themselves with permission from me and some NPCs, essential or not. All that is needed is logical IC working towards starting the quest to finishing it. Meaning, no sudden, "Some random is in trouble, must go and help."

There are two types of Campaigns and Quests. Generic and Specific.
Generic is open to any roleplayers interested. They will either influence all of Siriko or just the people involved. An example of a Generic Campaign that influences all of Siriko is the Main Campaign.
Specific requires certain parameters to be met, such as Race, Class, Faction. They will only influence the NPCs and roleplayers involved, and not the whole of Siriko. An example is a job given by the Fighters' Guild.
Quests can be listed in both. An example would be a Specific Campaign for the Shapers that need other Shapers to join, and a Generic Campaign for the Shapers where they are hiring mercenaries and all.
Campaigns and Quests can also trigger other campaigns and quests.

Note: Campaigns and Quests will start as soon as all first posts are done.